Hundred Designers From Shanghai Yurun Space Design Visited Yangzi Flooring
The afternoon of June 15th, hundred designers from Shanghai Yurun Space Design visited headquarters of Yangzi Flooring. They visited Laian Yangzi Flooring, Yangzi Meijia factory and had a discussion with Yangzi design group.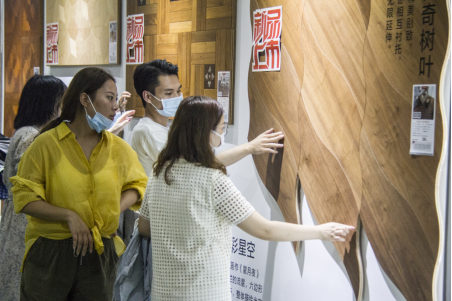 Under the guidance of General Manager Guo, the designer team visited the workshop and exhibition hall. Mr. Guo introduced the unique invention patent technology, production technology and strict quality control system of Yangzi Flooring in detail. The design team conducted a comprehensive investigation on the entire production process of Yangzi Flooring from raw material selection to production processing and finished product delivery. Through understanding every process in the production line, they felt the outstanding quality and unique craftsmanship of Yangzi Flooring.
Reddot award product: side-lock installation of solid wood ground heating flooring and patented technology of MSPC products triggered designers' great interest, for in new material, new craft, new technology of continuous innovation, high broadened horizons of Yangzi Flooring, and also strengthened the confidence of the depth of cooperation in product level.
In the process of visiting the exhibition hall, the designer had a deeper understanding and identification of the concept of "we are special" of Yangzi Flooring, and gave great affirmation from the product technical details to the color system. Ms. Wang Na, the design minister, discussed with designers on the features and space applications of each series of products, and communicated with each other regarding the current design styles and fashion trends.
This exchange activity deepened the understanding and trust between Yangzi Flooring and Yurun decoration. In the future, Yangzi Flooring will always keep pace with the trend.

While innovating, Yangzi Flooring will continue to provide designers with more competitive products, jointly layout high-end market with home decoration enterprises!
Return